Ebay: Give-A-Toy Store
Joseph Maduma
November 27th 2011
Yes folks, the yule tide season is very nearly upon us! The juggernaut of the Christmas marketing machine has been put in motion in a desperate bid to compete for your attention in the run up to the big day. All the big retail brands are filling us with promises of a perfect Christmas for our loved ones and if that means buying a garishly 'bling' D&G watch for dad, then so be it. If you don't, it will be a sad, miserable affair for all involved and you, yes you, will be a bad person. (Charlie Brooker waxes lyrical about this very amusingly in The Guardian). It's not all aggressive, consumerist messaging though and in amongst the cacophony of 'spend, spend, spend' there are a few brands that are teaming up with charities and keeping to the true festive spirit: giving. Ebay is one of these brands and they have come up with an amazing, innovative idea to help Toys For Tots donate presents to children in need this Christmas.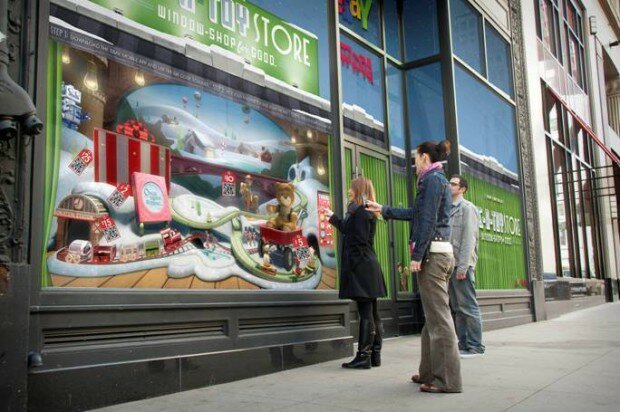 Giving a new meaning to the phrase 'window shopping', this is 'window shopping for good'. Marrying the latest in digital and mobile technology with the age old Christmas spirit of remembering those with less than ourselves, they have divised stunning 3D interactive shop fronts that allow shoppers to donate a toy easily with their smart phone and have great fun whilst doing it. Based in both NY and San Francisco the holiday storefronts feature interactive displays of popular toys such as teddy bears and trains that represent donation amounts from $2 to $25. Window shoppers can download the eBay mobile app to scan QR codes on virtual price tags, which triggers the toys to animate and "come to life", allowing shoppers to control the scene e.g turning it from night time to day time and making it snow. As donations are made to Toys for Tots, the virtual toys celebrate and express their gratitude.
It's a great way to actively engage shoppers in NY and San Francisco in the act of donating to charity this Christmas, as they run around frantically trying to find that last minute gift. If you don't happen to live in either of those cities you can still experience it online. It also serves as a reminder to those of us that are lucky enough to be with our famillies that there are those a lot less fortunate than ourselves who could also do with a bit of Christmas joy this year. It's certainly got Good Design in the Xmas spirit!