Unpackaged
Esther Robinson
May 22nd 2013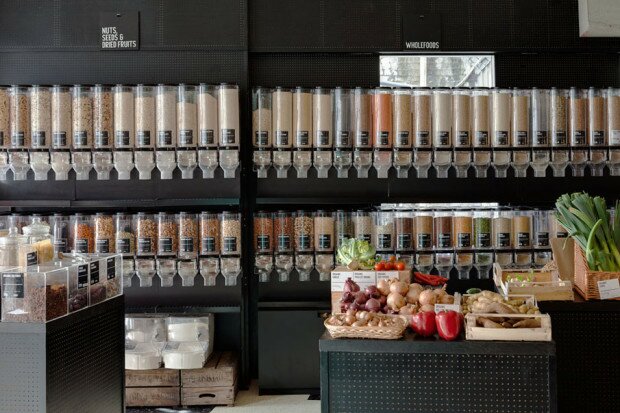 "To eliminate waste means to design things – products, packaging & systems – from the very beginning on the understanding that waste does not exist."
William McDonough - thought leader in sustainable design.
Not to be overlooked as just another chalk board café, a manifestation of William McDonough's thought is tucked away in Hackney in the form of the organic refill grocery & café, Unpackaged. It is a new type of shopping experience that laughs in the face of supermarkets reduced packaging measures, why have less packaging when you can remove it altogether?
This is what Catherine Conway thought when she founded Unpackaged in 2006, she believed it was unnecessary and instead of redesigning the packaging, redesigned the system in which food packaging is considered the norm.
You bring your own containers (or buy glass reusable ones there), fill them with the products of your choice, weigh and then pay. Simple.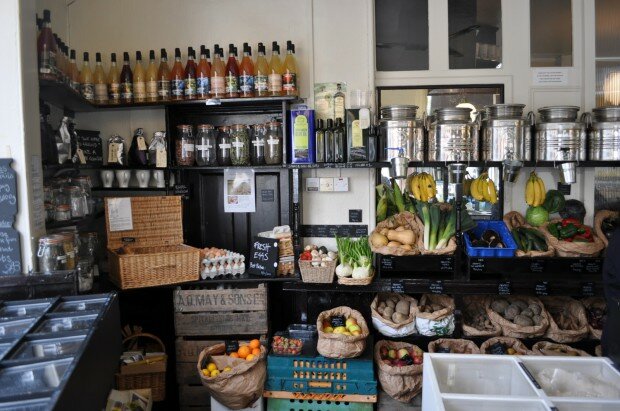 They sell all your standard buys: cereal, oil, milk, fruit, veg, mustard, wine… vodka. They even have toiletries. I currently use a refreshing Aloe Vera and Ylang Ylang shower gel that is made in England by Faith in Nature. It's in a little glass bottle in my shower. The product is good, but what sets it apart is the lack of an unwanted container to dispose of. There is a knock on effect of shopping at Unpackaged on your rubbish; there is none! It takes a shop at there to realise that avoidable packaging makes up the bulk of our weekly waste. Why do we have to fight through a wall of rubbish to get to the good stuff?
The shop is designed by London studio Multistorey who worked with a small budget to create a highly practical space. It is hard not to be seduced by the simple info-graphics and the 'motley crew' of salvaged chairs that have been stripped and painted black. ­­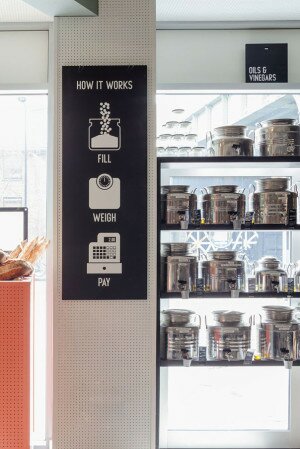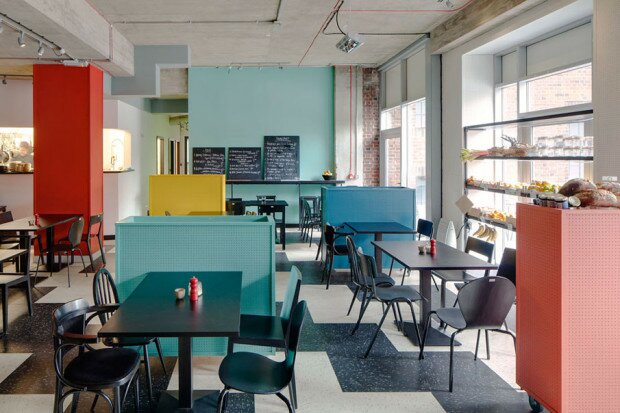 The experience itself is great, the nature of being completely out of your comfort zone in a retail environment means that you need a fair amount of assistance (on the first few visits at least). Which in turn means you build a rapport with the sales assistants creating a community atmosphere, definitely an added bonus in a world of self-service checkouts.
Unpackaged is not only innovative from a business perspective, but demands a different way of thinking from its customers. Shopping there requires you to re-learn skills in meal planning and preparation: skills that are essential in the progression towards a less wasteful society.
Money wise, you pay for what you get, which is good quality and responsibly sourced food. For those who are short on time they offer a service where you can drop off your containers and they will fill them for you.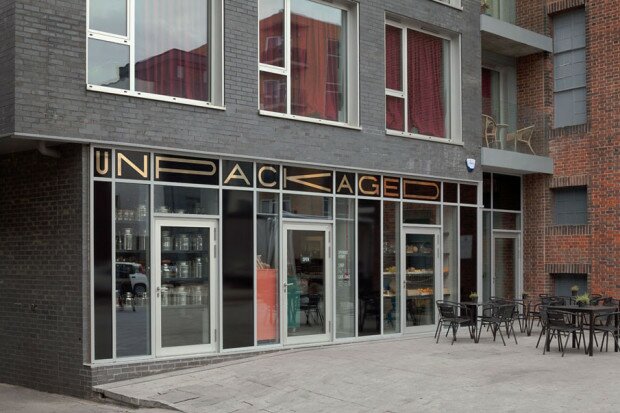 As it stands, due to resource, Unpackaged couldn't cope with a massive footfall; but although the customer journey might need a bit of work the business concept is sound. Unpackaged is leading the way in what I believe is the future of food retail because the design of their model makes sense: environmentally, economically and socially.
While supermarkets catch up we can choose to buy loose goods or, better still, we can join Unpackaged in helping to design a future where packaging doesn't exist.