Boston Magazine's 'The Shoes We Wore' poster
Joseph Maduma
May 3rd 2013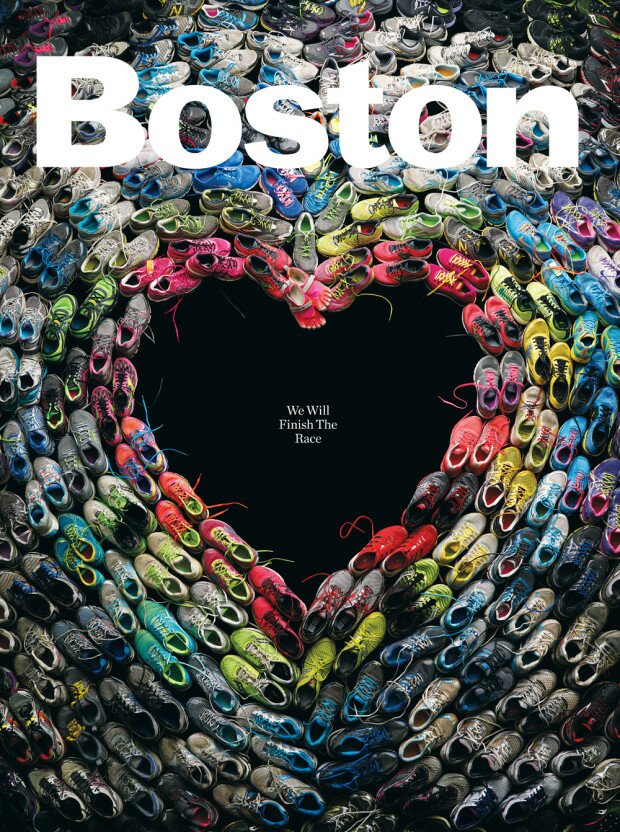 "We will finish the race" reads the stunning cover of the Boston Magazines may issue. Arranged around the simple yet powerful statement are over a hundred shoes worn by the Boston Marathon Runners, creating a multi-colored heart shaped frame.
The now already iconic cover design was the inspiration of design director Brian Struble and deputy design director Liz Noftle who came up with the idea as a direct reaction to the tragic bombings that rocked the Boston Marathon on April 15. The night after the bombings they decided to scrap the planned May cover and used social media and friends of the magazines staff to collect the shoes of the runners that would form the new cover.
All staff got involved on the project and conducted interviews with each of the shoe donators and compiled them into a moving article called 'The Shoes We Wore'. Fifteen of which ran in the print issue, with the rest hosted online.
In an extract from the magazines website John Wolfson the magazines editor-in-chief explains that cover is about "perseverance and unity."
"I knew as soon as I heard the idea that we had our concept—not just for the collection of essays, but also for the cover. In fact, I quickly realized that the stories of the runners who wore those shoes would be even more powerful than the essays we'd commissioned."
The cover is now available as a 23 x 28 double-sided poster, which also features the soles of the shoes forming the heart shape on the reverse. All proceeds will go towards The One Fund, which exists to raise money to help those families most affected by the bombings. If you have have family or friends that were effected by the events or would just like to show your support you can buy a copy of the poster here.
To read an excellent behind the scenes article on the making of The Shoes We Wore cover with John Wolfson, go to the Boston Magazine website.