Welcome to the all new Good Design
Joseph Maduma
April 23rd 2013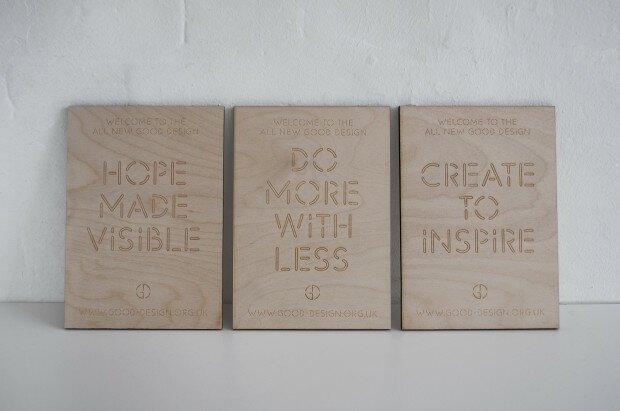 It has arrived! After a few months of design, development and implementation it is with great pride that I can announce the new look Good Design is here. And what a few months it has been - not only does Good Design now have a brand spanking new website, it also has a new identity, new font, new strapline and it's very own Good Design manifesto! It's fair to say we have been hard at work.
We also have some lovely new laser printed mailers designed in the new GD font (pictured above), which will be winging their way to some of our closest friends and supporters, as well as some of our most loyal Twitter followers!
The statements on the mailers are three excerpts from the manifesto that sit at the heart of what the new Good Design is all about. 'Hope Made Visible' is the new strapline and really represents the 'soul' of the new site. Inspired by American designer Brian Collins quote 'Design is hope made visible', every post that appears on Good Design in future will be guided by this new strapline.
'Do more with less' and 'Create to inspire' are both rallying cries to designers, creatives and indeed anyone who reads Good Design to be more imaginative and more resourceful in their approach to life and inspire others to do the same along the way.
In terms of content, you can expect much more of the same, from sustainable product launches and ethical brand write-ups to social impact campaigns and live event coverage, such as Sustainable Brands, TYPO London and the D&AD White Pencil Awards. As well as this there will be new features including new interview series, video content and book reviews. There are some exciting (and top secret) live event plans also in the pipeline!
Lastly, along with the new look and approach there will be some new voices joining Good Design in the form of contributors, the first of which is Esther Robinson. With a D&AD Yellow pencil nomination and a place at the D&AD Graduate Academy already under her belt, Esther demonstrated a clear passion for using her creative skills for good and was selected as both a Delegate and Ambassador for the One Young World Summit in Pittsburgh last October. Look out for a full profile on Esther coming up very soon.
With regards to the design and build of the new site, a very special thank you goes out to both Patrick Fry and Thomas Marshall for their first class design and web development skills respectively. Good Design would not be where it is today without you both!
And of course a huge thank you to you, the reader, for getting Good Design to this point. It's been a fascinating and inspiring journey thus far and this seems like it's going to be another equally exciting chapter. Please feel free to leave comments on and on our new as always your feedback is greatly appreciated.
Stay tuned for a special 'Making of Good Design' post coming up soon where designer Patrick Fry will talk through the design decisions and processes that went into creating the new site and mailers.
Thank you and create to inspire!
Joe Maduma - Editor and Founder