Recipeace wins D&AD White Pencil Award
Joseph Maduma
November 30th 2012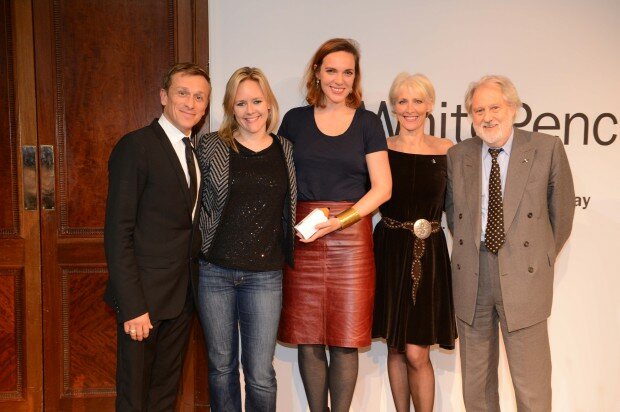 On November 27th 2012 it really felt like a piece of design and advertising history was made. At the Royal Institution in Mayfair the inaugural D&AD White Pencil, which is supported by Unilever, was awarded. The setting was suitably grand, matching the sense of occasion perfectly as many of the major scientific breakthroughs in the last century were also announced and awarded in the very same lecture halls, also home to the famous Christmas Lectures. Chaired by (Collaborative change) the Symposium got off to a great start with truly passionate, moving and inspiring talks from (CEO of Havas Media), (President of Ogilvy Earth), (Director of Global Insights at Frog Design), (SVP Marketing at Unilever) and Lord David Puttnam (CBE, FRSA).
Undoubtedly though the star of the show was filmmaker and Peace One Day founder . It's often cited that people don't believe in brands, they believe in the people behind them (i.e. Anita Roddick & Steve Jobs) and Jeremy certainly demonstrated in his speech that it is his passion, tenacity and relentless optimism that has led to the creation of Peace Day, a day of global ceasefire that was voted through by every head of state in the world.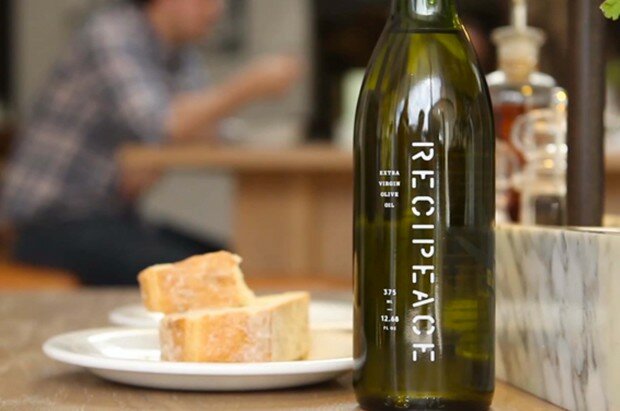 The top award was scooped by Leo Burnett Chicago, for their project Recipeace, a social movement designed to bring people together over a shared meal. Entrants to the White Pencil award were asked for ideas which would 'grow awareness of and engagement with Peace Day'. The aim of Recipeace was to help to establish September 21st as the UN's global self-sustaining annual day of peace through a social movement that brings people together over food. The award was collected by Kit Patrick and Alice Hooper from Leo Burnett UK.
The entry criteria stated that this idea had to have run this year, not just be at the conceptual stage. Leo Burnett Chicago demonstrated this by working with local organisations committed to working for peace in the Middle East, bringing them together over a lunch to discuss the issues. Many local restaurants helped promote the idea in the city. Leo Burnett created branded olive oil bottles (above) , place mats and postcards (below) which pointed people to the Recipeace website containing recipes for creating your own 'Peace Meals'.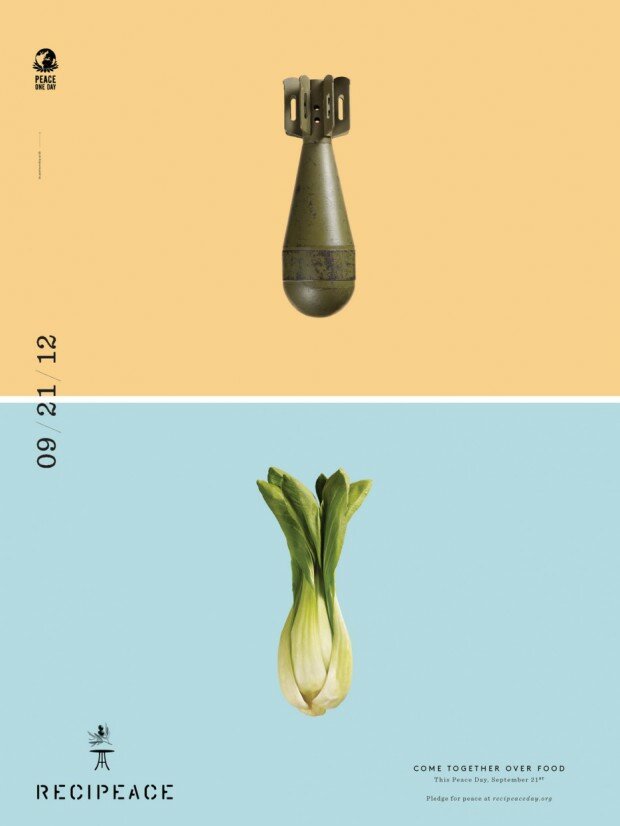 It wasn't just the agency professionals that had a shot at the brief, in true D&AD style the White Pencil was also opened up to students. Martin Headon and Olly Wood from the School of Communication Arts 2.0 won the student award for their brilliant idea to work with computer games brand EA Sports to establish a global ceasefire among game players during Peace Day. They were inspired by a genuine act of peace during World War 1 when on Christmas Day there was a ceasefire where English and German soldiers dropped their guns and picked up a football to play. Their concept involved asking players of EA's Battlefield 3 game to lay down their virtual arms on September 21st and instead unlock a football match in EA's FIFA 12. A very clever creative idea that taps into the huge market and potential of video games to effect social change in an audience traditionally unengaged in charity.
On reflection, it does seem that it is through the student community that the D&AD White Pencil Award can really come into its own over the coming years. Given the power, gravitas and accolade that a D&AD award garners, it will speak to a whole new generation of creative minds that no longer see doing good and making money as being separate endeavours. As Lord Putnam so aptly remarked "There is a need for goodness, a need for authenticity and a need for trust, because it's almost always absent. Its got to be real this time. This is a tipping point, and the D&AD White Pencil is a very impoartant part of redressing the balance".
Click here to find out more about the other 19 entries shortlisted by Lord Putnam and the Jury.