50/50: Make or Break Project
Joseph Maduma
September 11th 2011
Regular readers of Good Design will know that a few months ago at the beginning of summer I blogged about an initiative called Good For Nothing. I wrote then that the work they do is "exactly the kind of work that is precisely what I like to champion on this blog and which really makes me happy I set it up in the first place". Well I said it then and I'll say it again! Because they, along with Made By Many have now launched a project of epically inspirational proportions called 50/50 Make Or Break.
This is the challenge: 50 projects in 50 days to raise £1 million for famine relief in East Africa.
The idea is that in the 50 days leading up to World Food Day on October 11th the project will inspire fifty digital fundraising ideas to help them reach their ambitious but fantastic goal of £1 million. As they put it: "50/50 is a collaborative experiment, a platform of 50 little bets: digital projects created and run by individuals and teams of makers. Each project aims to engage a network of supporters to help spread the word and generate as much money for famine aid as possible."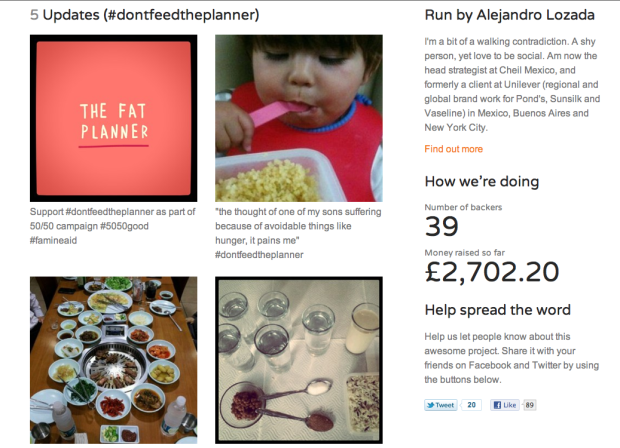 They have already amassed an impressive list of contributers with both JWT NYC and Virgin being among those to have confirmed projects. It's not just exclusive to the big boys though and the brief is open to everyone from agencies right down to individuals. All you have to do is have an idea and the passion to see it through! They even give you a huge helping hand by giving you your own donation page, a feature on the site's homepage and online PR. Take head stratagist at ad agency Cheil Mexico, Alejandro Lozada's idea 'The Fat Planner' for example. He plans to eat exclusively what an African refugee would eat for 50 days and document it. Very poigniant and I'm sure it will be a huge shock to the system and challenge for him. He aims to raise an incredible $75,000 from it. For more equally inspiring examples of project ideas visit the website.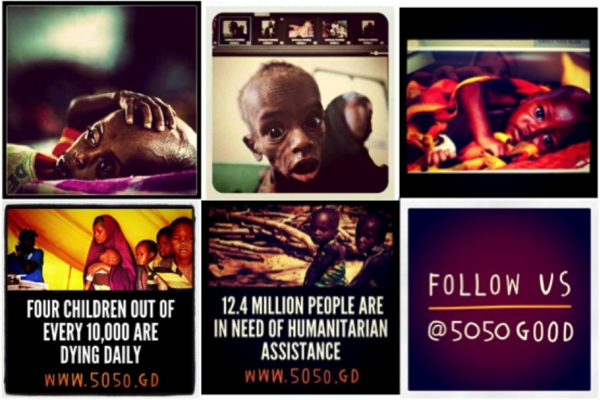 Good For Nothing has done an amazing job of throwing all of this together in such a short space of time and with all of the skills, resources and time being donated in people's spare hours on top of full-time jobs it's a real testament to their passion and dedication to the cause. The East Africa Famine is now reaching horrific proportions to the point at which a child in Somalia is dying from starvation every 6 minutes. Here is a shocking list of statistics which show what people there are facing:
- More than 500,000 children are on the brink of starvation in Mogadishu
- As far as the eye can see, makeshift shelters sprawl out across the city.
- New arrivals build shelters from twigs, cardboard, and scraps of old clothing
- People sit on the floor of the main hospital — there are no beds or chairs available.
- Four million Somalis – more than half of country's population – are now living in famine zones, and 750,000 are at risk of death within the next few months.
- A sixth region of Somalia, the Bay region in the south, has been included on the list of famine zones in the country.
- Within a few weeks the rainy season will begin in Somalia, heightening the risk of cholera, measles and malaria, which are already contributing to the death toll.
As you can see it's really appalling and that's why the project's aims are so commendable and why action must be taken now. There are various ways that you can get involved other than creating a project. If you are not a creative person yourself you can show your support by backing a project through donating to it, getting involved in it or helping to spread it through your social networks. Or you can simply make a donation to the appeal with 100% of the profits going to UNICEF.
After having read some of the brilliant ideas already up there fellow designer friends and I have been inspired and have already started brainstorming ideas of our own. I will be sharing the project and progress on here over the coming weeks. If you have been inspired to create a project or make a donation please share this post.