Greenbook
Joseph Maduma
January 28th 2011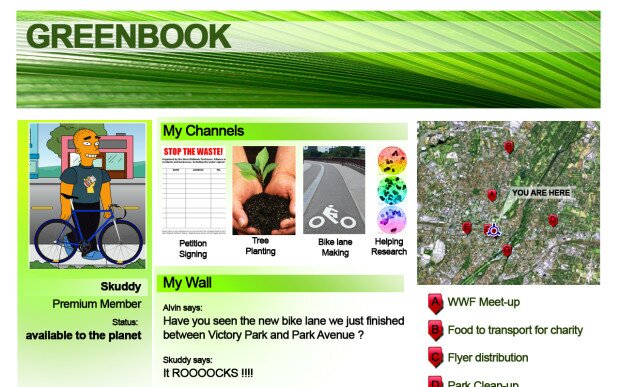 Greenbook is the winning concept of the Open Planet Ideas design challenge and a fine one it is too! Open Planet Ideas is a collaborative crowd-sourcing initiative between Sony, WWF and design and innovation firm IDEO which allows anyone to have a go at re-using Sony's existing technology to design the next big behaviour change project. Greenbook is an online interactive green magazine accessed via Sony's PSP platform that places the user at the centre of the action.
By treating the user as a hero Greenbook sends them relevant news depending on their location, time and capabilities. The news acts as a catalyst and the user is encouraged to take action on the news they have received. The most basic level of participation is a financial reward scheme where the user is rewarded for buying environmentally friendly products. At the next level the user is sent news about a successful environmental project which then encourages them to volunteer in the maintenance of the project's success. The following levels then motivate the user into the roles of educator, project founder and finally negotiator with big entities such as large companies and NGOs.
This is a very exciting project because as Greenbook is accessed through the platform of the PSP usingP2P, GPS and Felica technologies, there is a real opportunity for this behaviour change project to reach a new and diverse audience. The gaming aspect makes sustainability, fun, engaging and rewarding whilst also being educational. By demonstrating to the user that small actions can have a genuinely effective influence it encourages positive behaviour to be built into every day life bit by bit, leading to big environmental achievements. Obviously the concept is still in its initial stages design wise but I'm really looking forward to seeing the finished article!