IBM: People For Smarter Cities
Joseph Maduma
June 10th 2013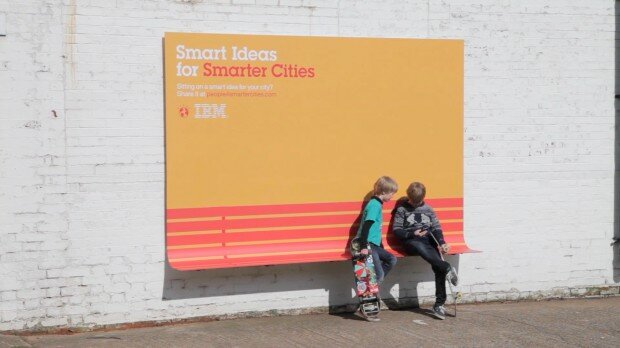 This is outdoor advertising at its best, creative, on brand and with purpose. Working together to spark positive change with the 'People For Smarter Cities' initiative, IBM has teamed up with creative consultancy Ogilvy France to create outdoor ads with a difference. With a bit of design thinking, adding a simple curve to the bottom of the ad creates a bench for citizens to rest on, adding one to the top creates a shelter from the rain and extending the bottom over a ridge of stairs creates an easy access ramp.
The campaign believes that finding smart ways to improve fundamental services – such as roadways, mass transit and utilities – improves the quality of life in cities all over the world. Executed in three different colour variations, the minimalist graphic components of the different advertisements reference their physical counterparts i.e. wooden slats and protective awnings.
Of course the ads are purely a PR stunt but it's a lovely way to use outdoor advertising to really bring alive IBM's brand message of 'Smart ideas for Smarter Cities' and allow people to interact, engage and experience it.
Watch the promo video at the end of the post to see the ads in action.