Good For Nothing: Future Youth
Joseph Maduma
January 30th 2013
If you got around to reading the Good Design's 'Good Bits' of 2012 post at the beginning of the month then you will be familiar with the name Good For Nothing. They are a firm favourite here on the blog and it's always a pleasure and a highlight of the month to cover a GFN event. If you have no idea what I'm talking about however, then this excerpt from their website should explain what all the fuss is about: "Good for Nothing is a community of thinkers, do-ers, makers and tinkerers applying their skills and energy to accelerate the work of cause-led innovators and change makers; it's about diverse groups of people collaborating together, working in new, faster, fun and better ways by supporting ideas and people that are leading the way to what a flourishing 21st century society might look like."
Sound cool? Well, it gets cooler! Because it all happens over one super fun, super challenging and super productive weekend. There are DJs pumping out the latest electronic beats to keep team moral at a high, food and drink from the likes of Innocent, Divine Chocolate and Chipotle to keep energy up and beer o'clock usually kicks in around 5pm to help wind down from a day's super charged 'doing'. As the GFN team so aptly put it, it's 'creative collaboration meets rave'.
You will use your skills to help some of the most interesting and innovative start-ups out there make a real, tangible social impact in the world.
Make/Time, the last Good For Nothing I attended way back in March of last year was a real buzz and it blew my mind how much was achieved in just 48hrs. So it's  safe to say I was a tad excited about attending my first Good For Nothing of 2013. This gig's theme was Future Youth, working with innovative ventures tackling better futures for young people. And for a lot of young people out there the future is not looking so inspiring, with the latest government figures showing that almost 1 million 16 – 24 year olds in the UK are unemployed. So with this in mind GFN called upon the creative community to kick start the following three ventures:  Discoverables which is a website that helps young people develop & showcase their key strengths and soft skills to potential employers, Cultivate London which provides training in how to grow food to unemployed youth in disused spaces and Only Connect  which creates a sense of belonging & develops crime prevention programmes for ex-offenders and youth at risk.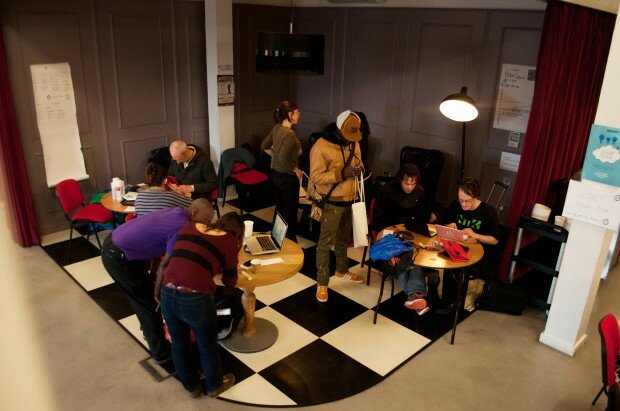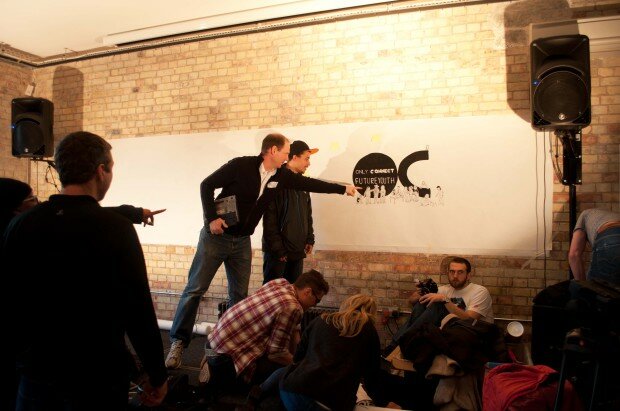 The weekend started with a team briefing at 6pm that was broadcast live on the internet. Participants picked whichever venture they wanted to collaborate with, using skills from their day jobs that ranged from brand strategy, marketing, PR, design, development, copy-writing and more. By the time I arrived on the Saturday morning proceedings were well underway with pretty much all the rooms in the fantastic Forward Foundations offices occupied. Located in Camden, the Forward Foundation help small organistations transform young lives and their space comes equipped with a mock amphitheatre plus stage, table tennis table, telephone box and meeting room cubby holes (and thats just the tip of the iceberg!). There couldn't have been a cooler or more apt place to host the Future Youth event.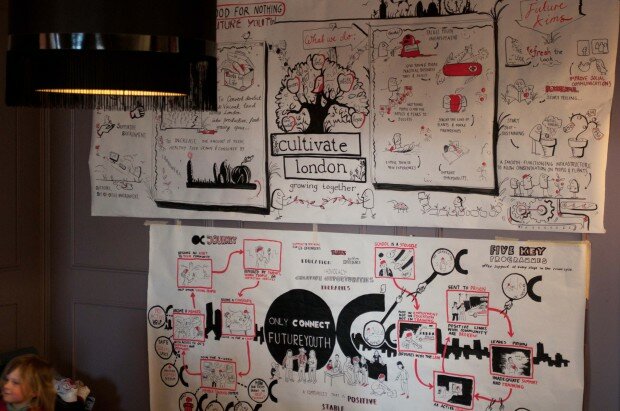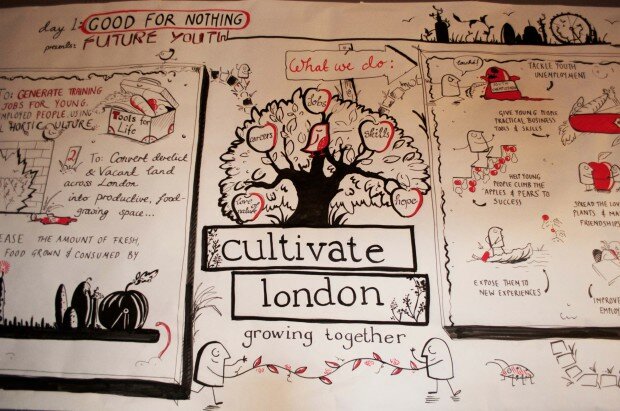 One of the best things about attending a GFN gig is meeting some really cool people who share similar interests and values, but above all inspire you. And GFN's guests 'The Restart Project' definitely fall into those categories. Encouraging people to re-use their broken goods instead of buying new ones, they held a Restart Party on the Saturday afternoon where they helped fix the products brought in by the GFN attendees and the young people. Chatting with one lady who was getting her phone fixed, I learnt she had spilt rum on it during particularly jubilant new year celebrations and it had been randomly blacking out and switching off since. Later on in the day I caught up with her and she said 'It's fixed!' with a big smile on her face. A very happy customer it seemed and she wasn't the only one.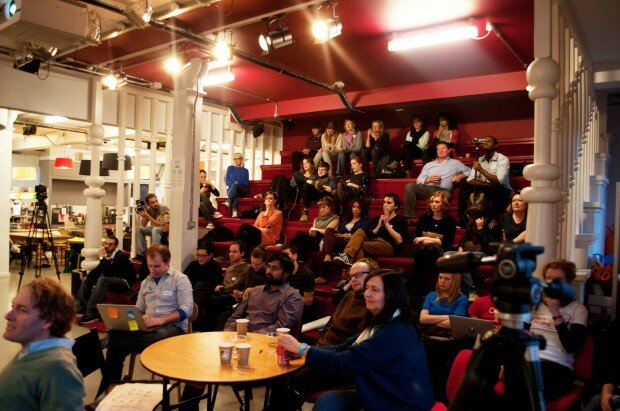 On Sunday the 'doing' went from efficient, to turbo charged. Strategy and planning had run their course and it was all hands on deck to make the 4:30pm deadline. I even jumped in last minute and helped the Cultivate London team with a couple of design mock ups, which made the last few hours fly by and in no time at all it was presentation time! The Discoverables were first up and revealed that they had managed to create a business strategy, video, press release  and pitch which they will be using to present to theDesign Council for further funding. Cultivate London left with ideas for recruiting young people as apprentices, a new communications strategy and the beginnings of a sales management system to expand their organisation. And  Only Connect had acquired a fresh new way of communicating themselves and an approach to attracting support from the business world. Once again GFN delivered on producing an absolutely epic amount of work in just one weekend with skills and expertise worth thousands from industry professionals.